Remember this blog post (I know... way back when I actually blogged...)
well anyways... I finally got around to actually using my freebie promo and designed our very first holiday cards!
I had wanted to send out Christmas cards, but about the time I was still shopping for gifts for people two days before Christmas, I decided it was a little unrealistic.

So, I am making a last ditch effort to send out New Years cards...

And yes, those will be late as well (considering its new years eve and all).

But I had 5o FREE CARDS! I HAD to use them for something!

Without further ado.... Happy New Years from The Griffins!!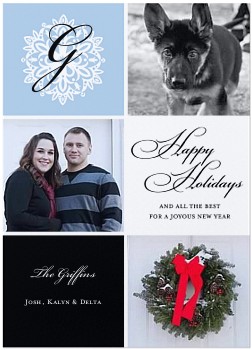 Elegant Snowflake Holiday Card